WholeScripts: Xymogen products are only available online through this site, but other supplements are available also. And now you can get PRESCRIPTIONS here (If you are my patient, I will order them for you.) WholeScripts will put your supplements and medications together in individual packets for you, so that you don't have to make worry about when and how to take them. Use access code "sustain".
Wellevate: Free shipping on orders $49 or more. Protocols provide my recommendations for common purposes, such as the "Family Medicine Cabinet". However, please note that the wrong supplement do you harm. If you are a patient of mine you can request that I create a "prescription" specifically for you (just call), and/or you can shop on your own . You will receive reminders when it is time to refill if you use this service. Shipping is free for orders > $50. Easy ordering via phone, website or our App where they can scan barcodes to search for products!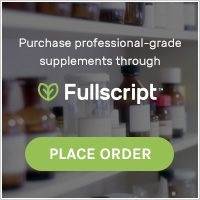 Fullscript: Similar to Wellevate. However, currently recommendations from my office are sent via Wellevate.